We have very close links with well established logistics businesses, specialising in chilled haulage to Great Britain and Ireland. These employ an experienced team of planners and drivers to ensure that your products arrive fast, in the most efficient manner and at the correct temperature.
Our haulage companies use young, state of the art fleets, which are equipped with the latest generation onboard computers, to ensure there is a perfect harmonisation between the planning at the base and the trucks and drivers on the road.  Using GPS and GPRS technology, vehicles are tracked real-time, and drivers can be instructed while on the road. This enables them to provide accurate information and exact delivery times whenever required.
The temperature in every trailer is logged 24/7, so all products can be monitored to ensure they are carried and delivered under optimum conditions.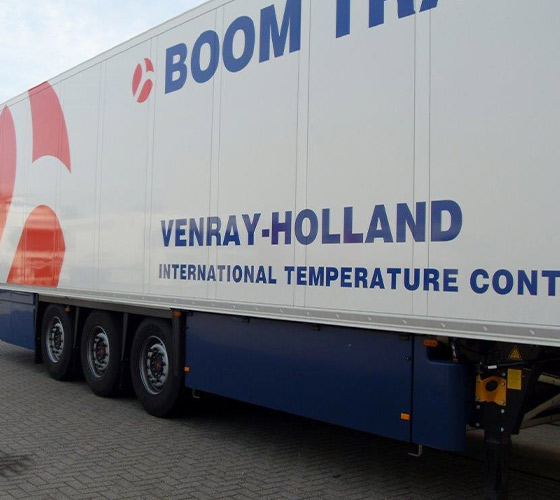 Our hauliers are committed to environmental and social responsibility and with any investment will look always for the best combination of both economic and environmental aspects. All transport vehicles have been equipped with the more environmental euro 5 engines, meaning they can even deliver cargo in low emission zones.
There has also been investment in multi temperature trailers, which give the flexibility to load different temperature ranges in one trailer, making deliveries more efficient. These Multi temperature trailers also work with a movable isolation wall which gives the opportunity to reduce the size off the chilled loading compartment and therefore create lower energy requirements for multi delivery trips etc.  These trailers are also equipped with side skirts for better airflow and have solar panels mounted to help power the latest model Carrier MT1950 fridges; all of which help to keep fuel consumption to a minimum and therefore reduce carbon emissions.